NPSGlobal Foundation, 18 Apr 2014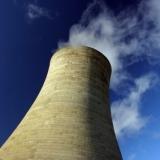 The operator of the Fukushima nuclear power plant accidentally directed 200 tons of highly radioactive water to a building within the plant site that was not supposed to receive the contaminated water, the Japan Daily Press reported Thursday.
Plant operator Tokyo Electric Power Co. (TEPCO) told the Japan Daily Press that Japan's Nuclear Regulatory Authority (NRA) ordered the company to monitor for leakage even though TEPCO assured that the facility was watertight.
TEPCO reported that the highly contaminated water, which is used for cooling the disabled reactors, had been mistakenly routed to a group of buildings that house the central waste processing facilities for the plant.
The basements of these buildings had been prepared to function as emergency storage for contaminated water, TEPCO said. They said they first noticed a problem with water levels on April 10. On April 12 they discovered that four pumps that should not have been working were active, and on the afternoon of April 13 they shut off the pumps, which had flooded the waste processing facility.
TEPCO also reported a separate incident on April 13 where approximately one ton of treated radioactive water leaked from a damaged storage tank at the nuclear plant. TEPCO officials said that none of the water was released into the sea.
The Fukushima nuclear power plant was severely damaged in an earthquake, followed by a tsunami that hit Japan's coast March 11, 2011. The facility is currently in a prolonged and complicated process of being decommissioned.