The New York Times, 2 Jul 2009.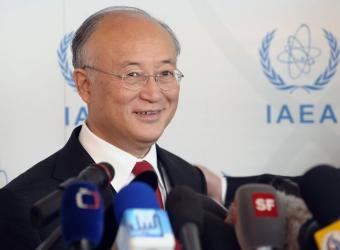 Yukiya Amano, a Japanese diplomat who favors a firm approach toward Iran was elected to lead the International Atomic Energy Agency on Thursday, narrowly edging out a South African for the post.

In the last of six rounds of voting at the organization's headquarters in Vienna on Thursday, the Japanese diplomat, Yukiya Amano, won the required two-thirds majority of the 35-nation board, with 23 votes in favor and one abstention, said an agency official, speaking on condition of anonymity because the election results will not be official until the governing board formally accepts them on Friday.

In earlier rounds of voting, Mr. Amano had been locked in a tie with a South African diplomat, Abdul Samad Minty.

Mr. Amano, 62, will become the fifth director general of the agency, a United Nations-affiliated organization that monitors and investigates charges of illicit nuclear proliferation and promotes atomic energy for peaceful purposes. He replaces Mohammed ElBaradei, the current director general, whose term expires in November.

He takes the post as the agency faces multiple challenges to its mission of containing the spread of nuclear weapons worldwide, including Iran's efforts to enrich uranium, a recent nuclear test in North Korea and an agency investigation into whether Syria has covertly sought to build its own nuclear capacity.

Depicted by experts as the candidate favored by the United States and other wealthy nations, Mr. Amano favors maintaining the current approach toward controlling nuclear proliferation in Iran, which Western countries suspect of trying to build nuclear weapons. Iran says its nuclear program is purely for civilian purposes to generate energy.

"He's a nonproliferation and disarmament guy, and he believes in it," said David A. Kay, a former I.A.E.A. official and senior fellow at the Potomac Institute for Policy Studies. "He has been around in trying to keep the inspections in Iran going, and I expect him to continue very much in that line. He will not want to create a situation in which military action is the only alternative."

In a February interview with Reuters, Mr. Amano praised President Obama's readiness to sit down and talk to Iran over its nuclear ambitions, saying Iran should be treated with respect through dialogue. The recent post-election turmoil, however, has put those negotiations in question.

The choice of candidates reflected a division in the I.A.E.A. between those Western and industrialized nations that lead the nuclear club and see the atomic agency's prime role as a watchdog, and developing countries more interested in the broader use of nuclear energy.

"I believe that he will be fair in balancing the interests of the developed and the developing worlds," said Charles D. Ferguson, senior fellow for science and technology at the Council on Foreign Relations, said of Mr. Amano. "In particular, I sense that he understands that the developed world's interest in stronger safeguards on nuclear programs must be balanced with increased support for technical cooperation for the developing world."

The director general serves a four-year term. . Mr. ElBaradei, 66, has held the post since 1997, when he succeeded Hans Blix of Sweden.

Along with the organization he heads, Mr. ElBaradei, an Egyptian, won the Nobel Peace Prize in 2005 and has built a reputation for seeking a more cooperative relationship with nations such as Iran, North Korea and Iraq than many in the Bush administration preferred.

Mr. Minty, as a former anti-apartheid campaigner and a senior official in the South African Foreign Ministry, was seen as more likely to assume a public profile closer to the style embraced by Mr. ElBaradei in the divisive debates over nuclear proliferation. Mr. Amano, on the other hand, was expected to project a lower public profile.

A graduate of the Tokyo University Faculty of Law, Mr. Amano joined the Japanese Foreign Ministry in 1972, according to his I.A.E.A. biography.

A longtime advocate of disarmament, he took part in arms control talks that produced an extension of the Non-Proliferation Treaty in 1995, as well as the 1996 Comprehensive Test Ban Treaty, the agency said. He has been Japan's ambassador to the I.A.E.A. since 2005, serving as the chairman of the policy-making board of governors from 2005-06.