BBC, Ria Novosti, UN, CTBTO, with comments by NPSGlobal, 25 May 2009.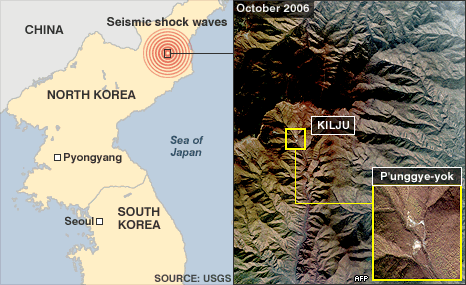 An official declaration released by the North Korean state radio earlier today, 25 May, announced that another underground nuclear testing had been "successfully conducted... as part of measures to enhance the Republic's self-defensive nuclear deterrent in all directions".
It said the test had been "safely conducted at a new higher level in terms of explosive power and control technology". The test would "contribute to safeguard the sovereignty of the country and the nation and socialism", the communication said.

Although there is no official information about the test's location it is believed that it happened in the North-eastern region near Kilju - the site of North Korea's first nuclear test. Sources from South Korea said that seismic activity was detected in that area, and this activity could speak of a much larger test than the 2006 one, informed the BBC.

Geological survey agencies around the world, including several from the CTBTO - International Monitoring System said they had detected a 4.52 magnitude, Richter scale tremor in the area where the blast is believed to have taken place. Ria Novosti pointed out that Russia's Defense Ministry confirmed that North Korea had conducted a nuclear test, and said it would closely monitor the situation. The ministry's spokesman Col. Alexander Drobyshevsky said: "The test was carried out 80 kilometers (50 miles) to the northwest of the town of Kilchu. The nuclear device had a yield of between 10 and 20 kilotons [of TNT equivalent]." [Just around the yield of Hiroshima and Nagasaki explosions in 1945].

Just hours after the test, North Korea appeared to have test-fired two short-range missiles, South Korea's Yonhap news agency reported, but this was not confirmed.

Worldwide disapproval

In a strongly worded statement, President Obama said the North's pursuit of nuclear weapons and ballistic missiles threatened peace and was in "blatant defiance of the United Nations Security Council" and a "matter of grave concern to all nations" and called for an immediate response from the international community.

"North Korea's attempts to develop nuclear weapons, as well as its ballistic missile program, constitute a threat to international peace and security," the president said.

Obama said Washington would work through the U.N. Security Council and the six-party talks format on North Korea's denuclearization, involving North and South Korea, Russia, Japan, China and the United States, to address the issue.

Russian Foreign Ministry earlier voiced concern over the reclusive communist state's announcement of its second nuclear test. Pyongyang withdrew from the Non-Proliferation Treaty (NPT) in 2003 and conducted its first nuclear test explosion in October 2006.

"The information on North Korea's nuclear test is a cause of concern, but before we draw any final conclusions it should be thoroughly verified," the ministry's press service said in a statement. The Russian permanent mission to the UN said the Security Council would convene for emergency consultations at 16.00 EDT (20.00 GMT) on Monday and could decide to hold an emergency meeting on the issue. Russia is occupying right now the rotating presidence.

A spokesman for South Korean President Lee Myung-bak said the test was "a provocation that can never be tolerated", while Japan's Chief Cabinet Secretary Takeo Kawamura said any nuclear test by the North would be "unacceptable".

China one the closest allies of North Korea, said it was"resolutely opposed", while Russia called it "a blow to non-proliferation efforts", reported the BBC. Both urged North Korea to go back to the negotiating table - with Russia saying six-party talks were the "only solution".

Correspondents say both countries are fearful of the destabilizing effect that military action or cutting off trade ties could have on their impoverished former protégée - with the spectre of millions of refugees pouring over their borders should the regime implode, the BBC stated.

UK Prime Minister Gordon Brown said he condemned the test "in the strongest terms" and said it would "undermine prospects for peace on the Korean peninsula".

The UN Secretary General Ban Ki-moon said he was "deeply disturbed" by reports of the test - which, if confirmed, he said would violate UN Security Council resolution 1718, which demands that North Korea refrain from nuclear testing.

In a press release, Tibor Tóth, Executive Secretary of the Preparatory Commission for the Comprehensive Nuclear-Test-Ban Treaty Organization (CTBTO) based in Vienna, stated: "Today's claim by the Democratic People's Republic of Korea (DPRK) that it has conducted a nuclear test constitutes a threat to international peace and security and to the nuclear non-proliferation and disarmament regime. I am gravely concerned by this action. In particular, it is a serious violation of the norm established by the Comprehensive Nuclear-Test-Ban Treaty (CTBT) and as such deserves universal condemnation.

Today's event underlines the urgency of the entry into force of the CTBT and the necessity of putting an end to all nuclear explosions for all time. It is therefore my hope that the current situation will increase political momentum towards the CTBT's entry into force and speed up the ratification process."

Urgent action is required by Irma Arguello, NPSGlobal Foundation
Since the first nuclear test in October 2006, the international community intensified its efforts to persuade North Korea to give up its nuclear weapons ambitions by means of diplomatic negotiation and economic incentives (within the Six-party Talks framework), but neither pressures nor economic offers has been effective to achieve the goal. At the very beginning the results seemed to be encouraging. In this sense, North Korea agreed to close its nuclear reactor at Yongbyon in February 2007, and to receive fuel as a counterpart. Even though North Korea is an deeply impoverished country, the interchange of nuclear capabilities for conventional fuel, seemed at least, very suggestive and not too balanced to become serious.

As conversations advanced, in June 2008 Pyongyang made the requested declaration of all its nuclear material, which included 30 kg of plutonium , another suggestive data, as several analysis and research took for granted that through the Yongbyon's separation plant operating time, it would have produced a bigger quantity of plutonion of about 46/ 64 kg . Beside of the current stock, it exists a significant quantity of spent fuel rods able to be reprocessed, and this would lead to an even more significant stock increase in a relatively short time.

The recurring Pyongyanag's attitude was to give up negotiations each time a non-favorable circumstance came up, until reaching the current situation of a total break off. It leaves just a little or no doubt about the past and current North's purpose of going ahead with its nuclear ambitions. In fact, to sit down on the negotiations table just seems to have been a tactics to gain time and to elude potential direct action measures aimed at stopping its nuclear program after the first test.

Six-party Talks, even a good idea, have also revealed multiple interests, not always convergent. China y Russia, in particular, the states in the best position to exert a substantial influence over Pyongyang, have carried out the more benevolent positions. Such lack of cohesion among Pyongyang's counterparts, has actually eroded the effectiveness to such negotiations, just in a key issue where global interest should have been first.

As power voids are filled in and fissures are taken for advantage, totalitarian regimes do not doubt in get more from their people, in order to pursue their more or less rationale goals. 

So far, diverse declaratory measures, included the Security Council Resolutions, have not been of much help on this, as they have been systematically ignored by transgressing states. This situation is gradually leaving less options to the use of force, the less  desired alternative. 

It is important that China and Russia, the key actors in the regional balance of power, take more consciousness about the global risk the world is facing and therefore, act with responsibility exerting their possibility of a major influence, in order to achieve a peaceful resolution of the conflict. The action of both powers, with the international support, seems to be crucial to conjure the danger of a North Korea with nuclear weapons, which could be just the kick off of a new proliferating wave, hitting that part of the world.