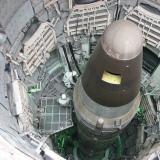 Global Security Newswire, 17 Apr 2014.
North Korea reportedly has deployed a mobile rocket launcher to its east coast in a possible sign that a threatened missile test is imminent.
A transporter-erector-launcher was detected moving toward the North's coast, an anonymous senior South Korean government official told the JoongAng Ilbo newspaper for a Tuesday report.
The mobile launcher was earlier fielded at the North's "central front," the official said. "North Korea made similar moves before the launch of its short-range FROG rockets and KN-09 ballistic missiles in late February and early March."
South Korean officials said the Kim Jong Un regime could carry out new military actions to celebrate Kim's grandfather's birthday, which was on Tuesday, or in response to yearly U.S.-South Korean armed forces exercises, which will wrap up on Friday. Pyongyang last month said it intended to carry out further military drills aimed at enhancing its ability to attack medium- and long-range targets.
Meanwhile, the United States and South Korea on Wednesday concluded two days of bilateral talks that focused on responding to threats by North Korea.
"The U.S. reaffirmed the continued U.S. commitment to provide and strengthen extended deterrence for [South Korea] using the full range of military capabilities, including the U.S. nuclear umbrella, conventional strike, and missile defense capabilities," reads a joint statement released after the talks.
The two allies agreed to hold further joint exercises and reviewed plans to enhance "missile defense interoperability." Those efforts are to include Seoul's evolving Korea Air and Missile Defense framework, which is aimed at defending against lower-altitude missile threats.