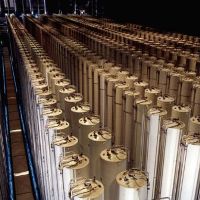 List news on developments in materials, programs, and key technologies to manufacture nuclear, chemical, and biological weapons and their delivery systems. In addition, their possible dual uses.

Aslo includes news on technologies, facilities, and commercial initiatives related to enrichment and reprocessing, the global status of HEU (Highly Enriched Uranium) and plutonium stocks, and the international efforts to reduce them. In addition, information related to precursors of chemical weapons, materials, equipment and technologies likely to lead to the production of biological agents, and materials of application in missile programs.

The specific items related to the weapons and their delievery systems are listed in their related categories, Nuclear & Radiological , Chem & Bio Weapons, and Delivery Systems , and those relatied to the international control, in the Global Security and Strategic Trade categories.

To complete your search you might want to browse the Nuclear Energy category.

More information and research papers on these subjects can be found in our Analysis section.