Global Security Newswire, 12 Dec 2011.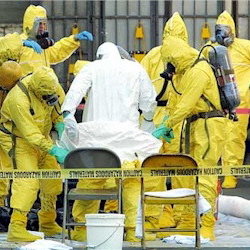 Pharmacists would be key in the medical response to an act of terrorism involving a chemical weapon, a press release issued on Friday cites a new research study as stating (see GSN, Sept. 15, 2010).
Pharmacists' know-how in scientific fields such as chemistry, microbiology and toxicology would make them useful to hospital and government officials in the face of a chemical strike, forensic pharmacologist Peter Anderson wrote in an article published in the Journal of Pharmacy Practice.
Pharmacists could support the distribution of countermeasures against blistering, nerve and choking agents, along with chemicals used in industry or for riot-control purposes, according to the study. Such possible antidotes could prevent deaths if applied rapidly and in appropriate doses.
Development of hospital crisis strategies should involve staff pharmacists, who should also collaborate with relevant panels to ensure the facilities have access to the necessary medical treatments for intentional or accidental chemical events.
While focusing on chemical weapons, Anderson also noted the value that pharmacists could offer in dealing with biological, nuclear or radiological strikes, according to the release from journal publisher SAGE (SAGE Publications release/Science Daily, Dec. 9).