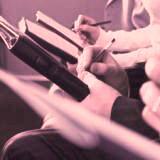 Implementation of control regimes and general nonproliferation commitments, an issue of big relevance to every nation requires highly trained human capital. Governments should be prepared to cope with threats derived from potential use of WMD. Finally, it is clear the importance of educated societies concerning the overall global and local risk reduction. All these aspects involve people –government and privates- playing different roles.

In this sense, the purpose of the program is to help develop awareness, specific skills, an integrated view on the matter, and a prevention and response mindset. It is composed by a set of projects and activities at universities and other learning environments, which meet different needs, from highly involved people to public. Also includes scholarships and incentives.

Activities are open to individuals who may require this knowledge as a tool to perform their job tasks, such as personnel from government agencies and Congress, their advisors, armed forces, people involved in prevention and response planning and actions, those who belong to scientific and academic institutions, media and, by extension, to those with a particular vocation or interest on disarmament and nonproliferation issues.

Ongoing projects:

• Postgraduate Course in Disarmament and Nonproliferation, [380 teaching hours]
It will be the first course worldwide focused on the named topics and delivered in Spanish and also made easy for Portuguese speaking attendees. The launch has been scheduled by March 2013, in two versions, regular and intensive, depending on the span of attendance. Read more...

• Weapons of Mass Destruction and Nonproliferation Seminar, [24 teaching hours]
Based on the experience of last 4 years, it is an 8-meeting activity, open to citizens, and covers the multiple dimensions of the topic, from technical aspects related to each type of weapon, the international control regimes, traditional and post September 11th, and the state of the world. Read more...
• Lectures and educational activities, [on demand]
NPSGlobal, design and implement Tailor made activities to meet the level and needs of each human group. For more details, contact us here.