| | | |
| --- | --- | --- |
| With the support of | | |
The Regional Postgraduate Course in Disarmament and Nonproliferation see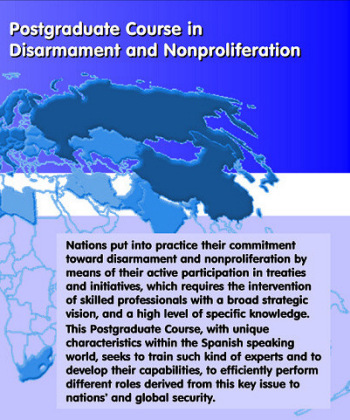 ks to train specialists  in global security, disarmament and nonproliferation with a comprehensive vision and a solid knowledge on the matter.
The course also seeks to develop skills to set scenarios, analyze impacts on a nation, region and global basis and to manage related projects.
Its syllabus and methodology are aligned to the recommendations of the United Nations Resolution about Disarmament and Nonproliferation Education (A 57/124 2002), specially its multidisciplinary nature.

The teaching staff  is composed by a number of Latin American experts and some well-know visiting lecturers from first level academic institutes worldwide. 

The course has been conceived as international with a regional focus on Latin America. Its design is highly interactive and it is aimed to enrich the participants with the exchange of experiences on the realities of different countries.
It is delivered in Buenos Aires in Spanish and Portuguese and participants who have accomplished all requirements receive a Certificate issued by the NPSGlobal Foundation.

The activity takes 380 teaching hours plus a final comprehensive work of professional application.
Topics are organized on the basis of 17 courses and seminars, which cover the global security issues from all their multiple dimensions such as technology, diplomacy, legal and political framework, military, economic, and social.

Expected Participants' Profiles:

Government officials - Policy makers - Foreign service personnel - Armed and Security forces - People involved in Prevention and Response - Scientific and technical personnel who play advisory roles - International Relationship specialists - Congress members and their advisors - Politicians - NGOs members - Personnel of private companies.
---
Course beginning
April 9 2013
Venue: NPSGlobal Foundation Headquarters
Av. Córdoba 883, 10th Floor, Buenos Aires
Open for Registration


---