| | | |
| --- | --- | --- |
| NPSGlobal Foundation sponsor of WIIS - Women In International Security Argentina | | |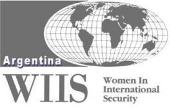 16 July, 2008


Per decision of the Board of Directors of WIIS - Women In International Security, the well known international organization headquartered in Washington, the NPSGlobal Foundation, will host and give support to the recently founded WIIS Argentina.

Irma Arguello, who leads the NPSGlobal's  leader has been appointed as Executive Director of the new organization.

WIIS is an international NGO which aims at increasing the influence of women in the field of international security, promoting  equal opportunities stategies.

For over 20 years WIIS has been dedicated to build a worldwide network of professionals (men and women) who understand the importance of inclusive and diverse participation in peace and security.

As a part of the activities in our region, WIIS Argentina will launch a website, offer seminars, training activities, and information about job opportunities worldwide in the international field. 

To get more information about WIIS and WIIS Argentina, click here.